PLEASE NOTE: Tiles without 'add to cart' are a special order. Special orders take 3-4 weeks to be delivered. Contact us for a quote.
At special request we can ship our mosaic tiles outside of Australia to anywhere in the world. Contact us for more details.
Stainless steel made from 304# grade stainless steel. Suitable for indoor wall applications.
Glass Mosaic Tiles Mixed with Metal Mosaic Tiles
Mosaic tiles are considered to be a very beautiful way of improving an overall look of a living environment. This is mostly because they are very durable and easy to clean. The most common materials used for making them are, for example, rock, stainless steel, glass, porcelain, ceramic and many others. However, the most popular choices that people make are either glass, because glass is very easy to paint in all colors, or stainless steel, because it is extremely durable.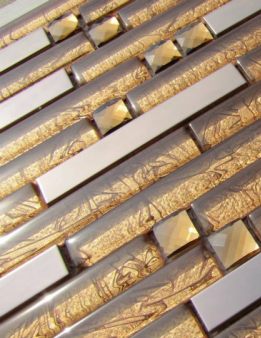 The colorful glass mosaic tiles have proven themselves to be a very good investment, as far as improving the look of your living environment is concerned. Very lively and vivid mosaic types are available for you to purchase on the market, but you can also try and be creative and design your own glass mosaic tiles. Feel free to explore the internet to see what other people have designed just to get the creative juices flowing. After that, it is just a matter of contacting a professional to seek advice on how to have the mosaic tiles installed. In addition, it is possible to install glass tiles almost anywhere in a household. Apart from the usual places, like kitchens and bathrooms, people sometimes put them in very creative places. Imagine a ceiling that has a very colorful mosaic design all over it. Really, the options are limitless.
Stainless steel mosaic tiles are more delicate. For example, since stainless steel is above all a metal compound, if you install them in a cold place, they will become very cold themselves. It is the same is when the environment is extremely hot. The disadvantage connected to this property of stainless steel is just the fact that it is considered an annoyance when you come in contact with them, if they become very hot or very cold, and nothing more. Stainless steel tiles are very famous for their permanent shine. In order for this material to maintain its original properties, you just have to clean it as often as you would clean any other such surface in a home.
Now, imagine mosaic tiles that consist of both glass and metals, such as stainless steel. Both glass and stainless steel reflect light very well. So, the combination of the two in mosaic tiles will have a very beautiful shine and this kind of construction has proven to beautify the room where it is installed in very much. When sitting in a room where the sunlight is reflected in different colors, and the metal is shinning very bright, you cannot feel but amazed, and in the same time, very relaxed.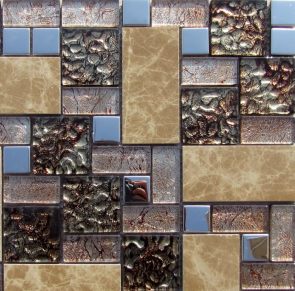 Making a living environment be more comfortable for you does not only mean purchasing comfortable furniture. Glass tiles, mixed with stainless steel tiles, are definitely more appealing to the eye than a standard white wall, thus, they are considered to be a good investment, since it is really very satisfactory to relax in a beautifully designed room. Also, if you decide to put them in the kitchen, you will find that kitchen work is done with more ease. This is not only due to the fact that cleaning the tiles is a generally simple process, but also it is very easy to do almost anything in an appealing environment (even if the environment in question is the bathroom area).
Combining glass and metal in tiles that form a mosaic is most definitely a very modern and unique way of improving the look of a home. Keep in mind that, once a house has mosaic tiles, the value of that house is raised in the market. So, if you are wondering if it is a good investment to add mosaic tiles to your home since you are not sure if you will actually live there long, then the previous sentence is proof that you can actually end up benefiting from them. People are very well aware of the fact that mosaic tiles are a big investment, and if the mosaic in question suits the house buyer's taste, he or she will be willing to pay a sufficient sum of money for it.
In conclusion, mosaic designing is a highly appreciated art. For this reason, and all the reasons stated above, if you are thinking of installing glass mosaic tiles and metal mosaic tiles in your home, I advise to explore your options, determine what you want, and go for it.