ExoTiles advises all tile installations be completed by qualified tilers.
Cutting Stainless Steel Mosaic Tiles
Cutting stainless steel mosaic tiles should ideally be done using a wet saw with a diamond rimmed blade. Any other type of electric saw will create scorch marks on the metal, but this can often be smoothed with a fine abrasive pad.
Do not use a tile scoring tool.
The picture below shows a side view of a standard stainless steel mosaic tile. It is comprised of a ceramic base and capped with the stainless steel. This makes it much easier to cut than if it were solid stainless steel.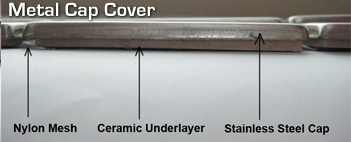 Image source: www.edenmosaictile.com/installation.asp
Edge finishing can be with a tile edging strip.