Whether you're designing a brand-new kitchen or you're giving your existing kitchen an update, choosing kitchen wall tiles is a crucial element of designing the fit-out. There are a few rooms in the house that require tiles, and the kitchen is where they really flourish and add to the aesthetic of your home. Tiles are also practical, being hard wearing and easy to clean make them a good option in high traffic or work areas.
Choosing Kitchen Wall Tiles
When choosing kitchen wall tiles, there are a few things you should take into consideration before making your tile choices.
Consider the rest of your home styling
When choosing kitchen wall tiles, it's important to consider style. We recommend gathering some of your favourite kitchen wall tiles ideas from magazines, Pinterest and Instagram and finding the style that best fits your home aesthetics. Like mentioned above, is the kitchen brand-new? Or are you re-modelling your kitchen? Either way, it's important for your tiles to match the styling and interiors of the rest of your house. Whether this is continuity in colours, patterns or materials; you should think about how the styling of tiles and your kitchen tiles selection will flow into the other rooms and areas of the home.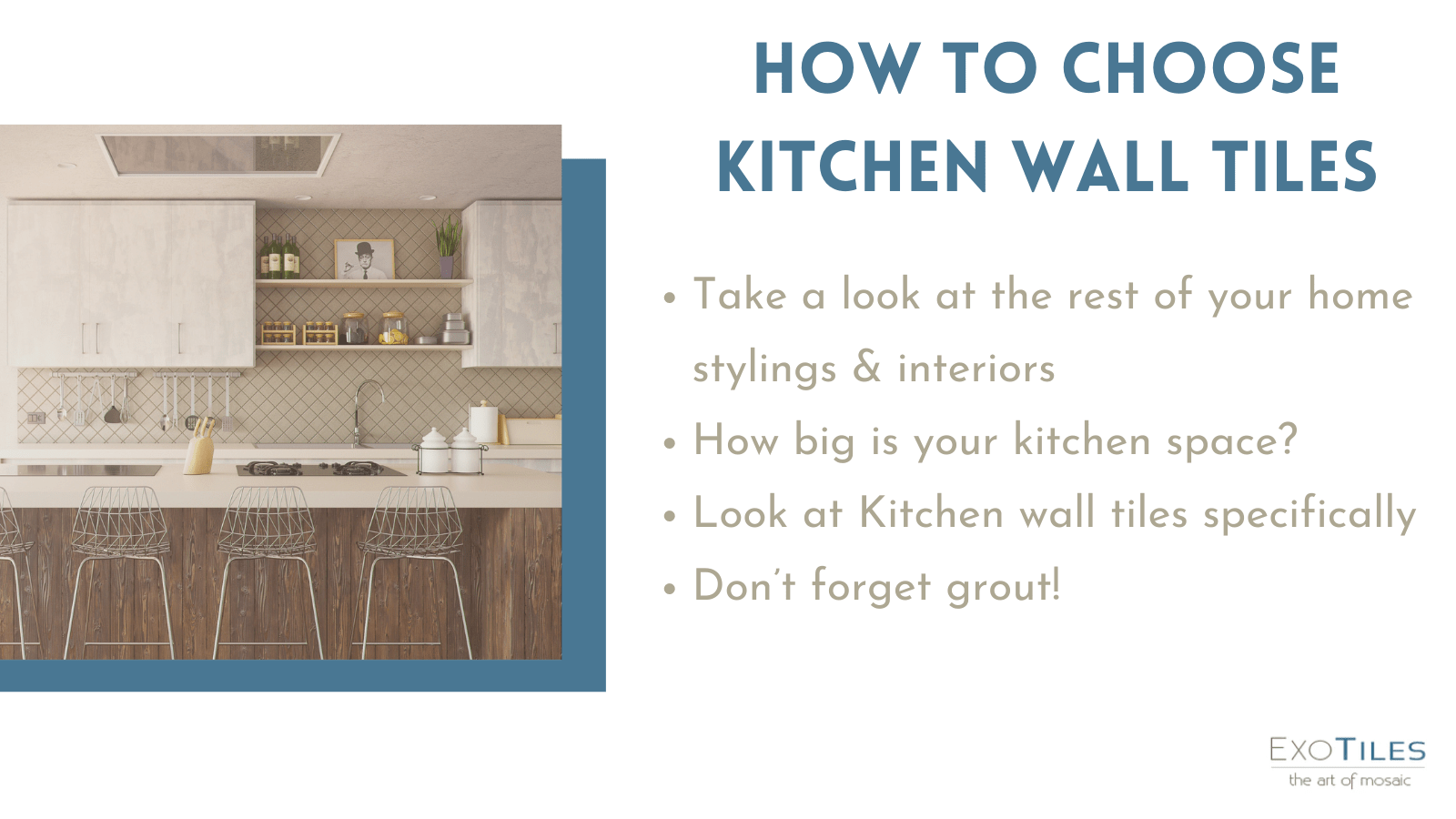 How big is the space?
Continuing on from this, the size of the space being tiled and the size of the room can impact your choice when choosing kitchen wall tiles. If you have a small kitchen, larger tiles will make the room look bigger; the same could be said for tiles that are neutral in colour. One aspect often not thought about but also handy when it comes to tiles in the kitchen is that a larger tile is easier to clean; with less grout there are fewer crevasses to catch and hold common kitchen mess.
Be specific
When choosing kitchen wall tiles, it's important to be specific with the tile surfaces that you decide on. Remember that these tiles are required to be applied to a wall, so you're better off choosing tiles specifically made to be applied to a kitchen wall. For instance, big floor tiles are made to take the weight of being walked on, and are therefore heavier themselves and can't be applied to walls. There are exceptions to the rule, but when investing in something as important as these elements, it's important to consider these specifications when choosing kitchen wall tiles if you want them to be long lasting and durable.
Remember Grout
As well as your kitchen tiles selection, the grout chosen will also have a large impact on your kitchen design and is often overlooked until you have already chosen your tiles. When in the kitchen, many prefer to have a darker grout as it will hide common kitchen stains like grease - so you should consider a tile that will be either be contrasted or seamlessly fit with your grout colour selection.
How To Choose Kitchen Wall Tiles
Now that you have a pretty good idea of what sort of tile you want, and what you require from your kitchen tile materials, it's time to gather some kitchen wall tiles ideas and compare your options. Let's compare tile materials, breaking down the variations of natural and man-made tiles to ensure that you're making the right kitchen tiles selection for your home.
Natural Materials
Natural kitchen wall tiles come from natural materials that are quarried and cut to size. Due to the random nature of their formation, thousands of varieties are available that all have their own unique characteristics and patterns. Natural materials offer an element of character you can't get from man-made tiles and a versatility that will match any type of styling chosen for your home interiors.
Natural stone - The textured finishes and natural formations give the stone a character and are genuinely appealing to the eye and feel great to the touch. They need a little extra care at times due to the texture, but the benefits definitely make up for it.
Marble - Marble tiles offer great versatility; marble comes in a variety of different colours and is known for its rich veining that makes every piece unique. Marble tiling does need to be properly sealed and cared for if you want it to last, but on lower traffic areas like your kitchen wall, it is a great choice.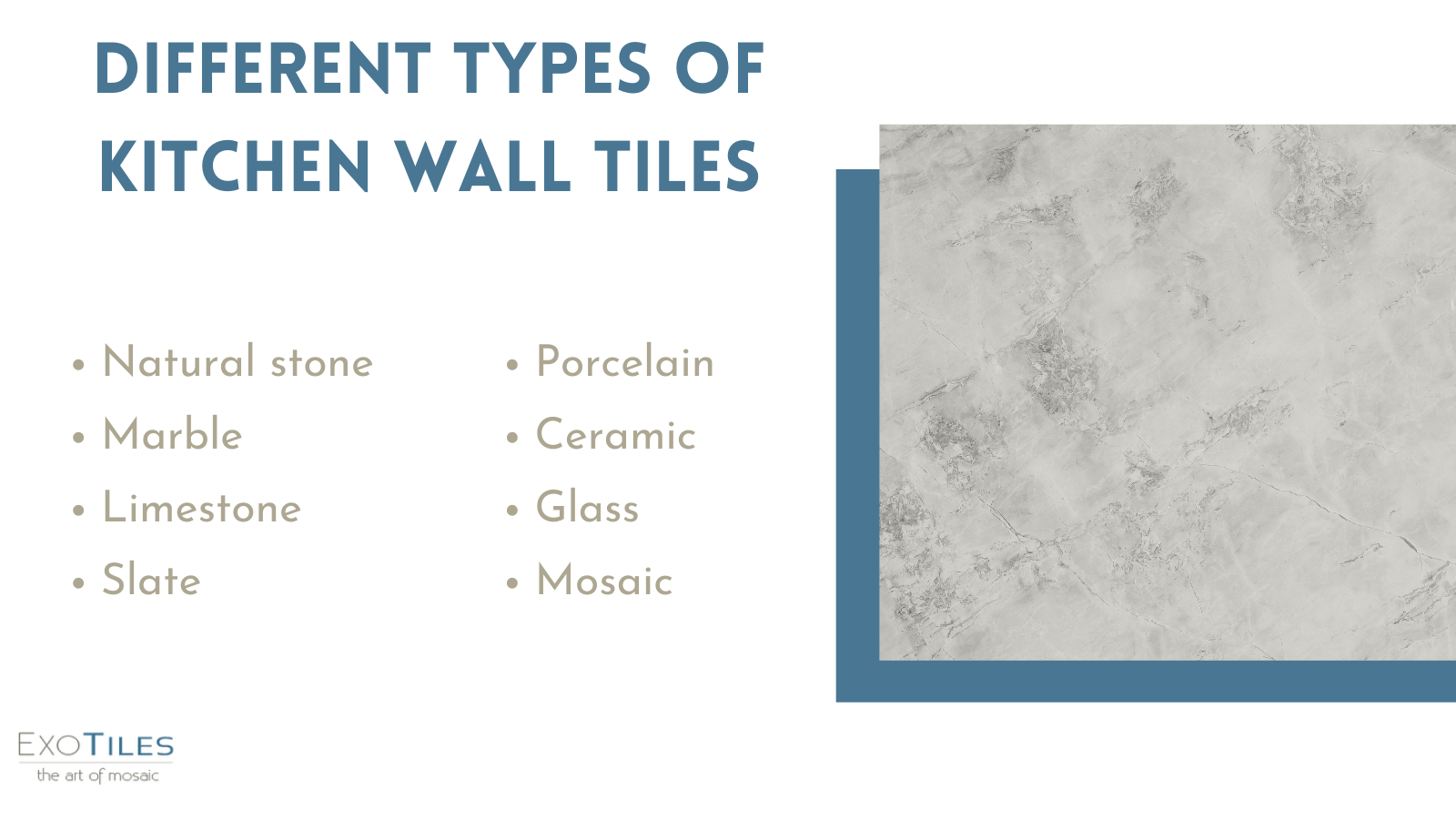 Limestone - If you want to add an earthly feel to your kitchen interiors, limestone is a great choice. Limestone can be polished smooth or textured, offering some versatility, but it isn't very dense so it may scratch and stain easily. Therefore, limestone isn't recommended for use as your splashback or other high traffic areas in your home.
Slate - Slate is one of the most durable natural materials as it is extremely dense, making it great for high traffic areas of the house. Again, slate is a natural material that can be polished smooth or kept textured offering some versatility but is pretty limited to darker, earthier colours.
Man-Made Kitchen Wall Tiles
Man-made tiles are commonly either ceramic or porcelain, and both are made from preparing and modelling clay before it is hardened in a kiln. Adjustments can be made during the process to create an enormous variety of tiles with unique characteristics. The addition of glass tiles has further added to the selection of man-made tiles you can choose from for your kitchen walls.
Ceramic – ceramic tiles are generally the most affordable choice and are commonly used for kitchen walls as they're not as hard-wearing and therefore aren't appropriate to be used as floor tiles. Ceramic tiles come in almost every colour and are available in many finishes from matte to high gloss, allowing you to be very specific in your interior design details.
Porcelain – porcelain tiles are more expensive than ceramic but are harder, providing a wider variety of applications and uses. Porcelain tiles are commonly used as floor tiles because of their strength and durability but can be used as a wall tile if you want a tile that requires minimal care.
Glass Tiles – Glass kitchen wall tiles are often used to create a focal point or feature wall. Multicoloured glass used in mosaic pieces can give your kitchen a point of styling that other tiles can't offer. If you want to stay away from "traditional" kitchen styling, glass kitchen wall tiles are a great choice.
Conclusion
Kitchen wall tiles come in a huge variety of materials and designs so it can be challenging choosing the right ones for your kitchen. It's important to do your research on kitchen tiles and be sure about what you want out of them.
Still having trouble finding the right kitchen tiles for walls? ExoTiles are the leading kitchen tiling experts. At ExoTiles, we offer an extensive range of diverse and versatile tiles to match the styling and interiors of every kitchen. We even offer tile samples so you can be sure your till choice will look great before you purchase them. Check out our full range of kitchen wall tiles today.