If you already have your home decorated with eye-catching tiles, why not also adorn your commercial space with shiny tiles? Let your space shine with stainless steel mosaics.
Industry experts have proven that stainless steel tiles are a smart choice for commercial kitchens. The material will not only give your space a bright outlook but, also an easy to clean surface. What's more, these items come in a wide assortment of textures and colours, inclusive of shiny and matte finishes.
To date, these products continue to increase in popularity for their sophistication as well as for their practicality for a wide range of uses. Hence, stainless steel tiles are eternally popular.
Here's an interesting look at why stainless steels should be given a second thought for commercial design projects.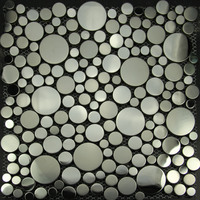 Modern Look
You could say that the look such materials bring to commercial spaces is somewhat contemporary, yet, you could be mistaken for thinking that stainless steel tiles are reserved for precisely ultra-modern interiors. As you know, establishments with more traditional interiors can likewise benefit from the metallic feel.
Also, these are known to have been used long before in commercial kitchens and baths (they must have their reasons). Further, these are used then in creating prominent focal points like fountains and fireplaces as well as for larger applications namely walls and ceilings.
Don't you want your commercial kitchen to have a sleek and super modern look, also bold and industrial? Consider also a somewhat futuristic look - stainless steel tiles are indeed the fundamental core of modern minimalism!
Besides the magnificent appearance and design flexibility that such materials bring, still more practical reasons will compel you to use them in your commercial settings.
Exceedingly Tough
Heavy-duty, long lasting, stainless steel tiles are rust and corrosion-resistant. They are not in any way, affected by the corrosive effects of food spatter. Their non-porosity makes them stain-free. And because they can withstand extreme wear and tear, they are not easy to break hence they last for years and therefore, they give you a huge return on your first investment.
Easy on Maintenance
Hospitals and restaurants prefer stainless steels obviously for sanitary purposes. With just a damp rag and disinfectant, your space will look sparklingly clean!
Easy to Install
Ask a professional tiler if you want them cut to fit a particular area or consult ExoTiles about the proper way of cutting your desired kitchen tiles. A non-sanded grout is used to avoid scratching the stainless steel.