Whether you're building a new kitchen or renovating an older one, you've likely conceded that you'll need to choose a kitchen splashback. With so many splashback options on the market, it can be hard to know what kind of material to choose for your kitchen and why.
ExoTiles are here to provide the ultimate guide on kitchen splashback tiles, helping you to make the best choice for your lifestyle and your home. But first, let's start with the basics: What is a kitchen splashback? And do you need a kitchen splashback?
What Is A Kitchen Splashback?
In simple terms, a kitchen splashback refers to the material positioned behind a sink, stovetop or bench. Designed with both functionality and aesthetics in mind, kitchen splashbacks work to protect the walls from splashes of oil, grease, water and other messes which can occur in the kitchen.
Splashbacks also allow for a splash of personality in the kitchen. The kitchen inevitably becomes the epicentre of your home; it's important to create a space that brings positivity, joy and a sense of calm. This can all be achieved with the right kitchen splashback. Previously, kitchen splashbacks were comprised of designs that purely met functionality requirements. Today, you can choose from an extensive range of splashback materials, textures, patterns and colours for your kitchen.
Do You Need A Kitchen Splashback?
Most builders and kitchen installers will agree that yes, you do need a kitchen splashback for your kitchen. Kitchen splashbacks are not absolutely vital to the design of a kitchen, but they will provide a number of benefits that will extend the longevity of materials, make the kitchen easier to clean and prevent unnecessary damage and repairs down the line.
At ExoTiles, we've worked with our fair share of splashback tiles and materials and can say with the utmost confidence that installing a high-quality kitchen splashback will go a long way in protecting the elements of your kitchen. When designing or building a new kitchen, a kitchen splashback is something that everyone should be seriously considering.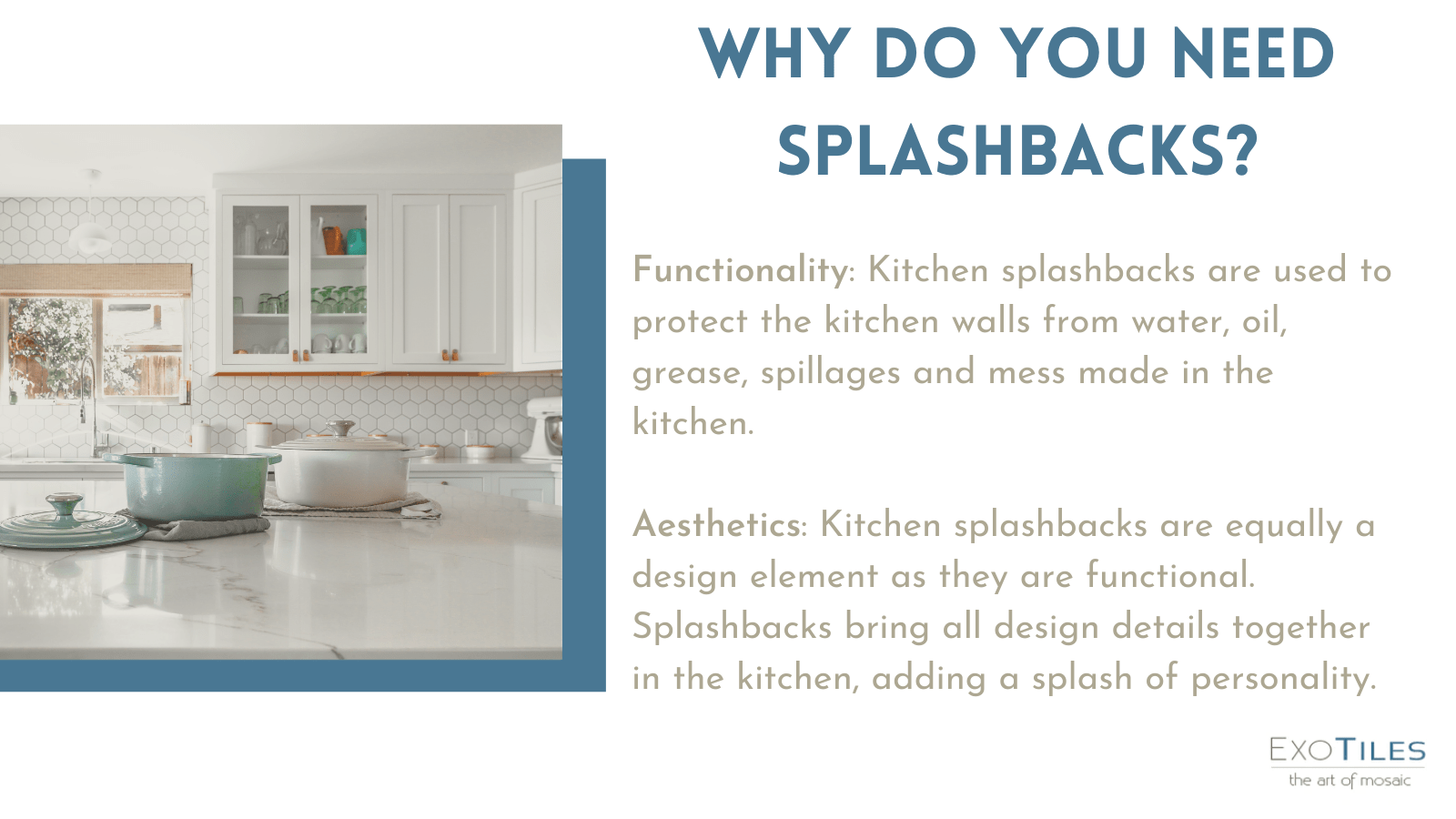 Kitchen Splashbacks Are Functional
If you're wondering "what is a kitchen splashback for?", you're not alone. Kitchen splashbacks are not structural necessities; but provide structural advantages. While it is possible to build a kitchen without a splashback, a kitchen splashback plays an important role in the protection of walls and other elements.
Kitchen splashbacks are designed to act as a barrier between the walls of your kitchen, and the elements in your kitchen that create mess. Your kitchen splashback will combat damage from water, oil, grease and food spills. What's more, a kitchen splashback provides a smooth surface that makes keeping your kitchen very easy. Tiles, glass and other kitchen splashback materials offer surface and finishes where spills, mess and grime can easily be wiped up.
Kitchen Splashbacks Provide A Decorative Element
The other side of the answer to "what is a kitchen splashback for?", is that kitchen splashbacks personalise the space. Kitchen splashbacks are as much of a design element as they are functional. With so many designs available on the market, you can create any type of look that you're after with the right kitchen splashback.
The splashback in your kitchen is the design detail that draws all of the elements together; from the countertops to the sink and stove and the walls. Where traditionally kitchens have been quite clinical, kitchen splashbacks provide the designer with the ability to add a pop of colour, contrast and personality.
The Different Types of Kitchen Splashbacks
For a long time, kitchen splashbacks were purely functional elements of a kitchen. Today, however, kitchen splashbacks come in a variety of materials, shapes, colours, sizes and patterns to complement any style of kitchen interiors. ExoTiles have broken down the most popular kitchen splashback materials so that you can get a better idea of the different types of kitchen splashbacks available.
Tiles:
Tiles were the original material used for kitchen splashbacks, as they are functional, easy to keep clean and provide superior protection from water damage. Today, despite other materials populating on the market, tiles are still a favourite splashback material because of the wide range of colours, patterns and textures available.
Glass:
Glass kitchen splashbacks are a common choice for splashbacks, as they are easy to clean and available in a wide range of colours and prints. Offering a sleek, contemporary look, glass needs to be toughened to withstand the heat from stoves and cooktops. Toughened glass also means that if it were to break, the splashback would crumble into small granular pieces rather than sharp jagged shards.
There's also the option of mirrored glass, where the surface offers reflection and light to bounce around the kitchen. Mirrored glass kitchen splashbacks come in a variety of designs, from clear, crisp reflective mirror, to tinted shades that add dark, cool depth to the kitchen. Mirrored kitchen splashbacks also need to be toughened to ensure that the materials can withstand high temperatures.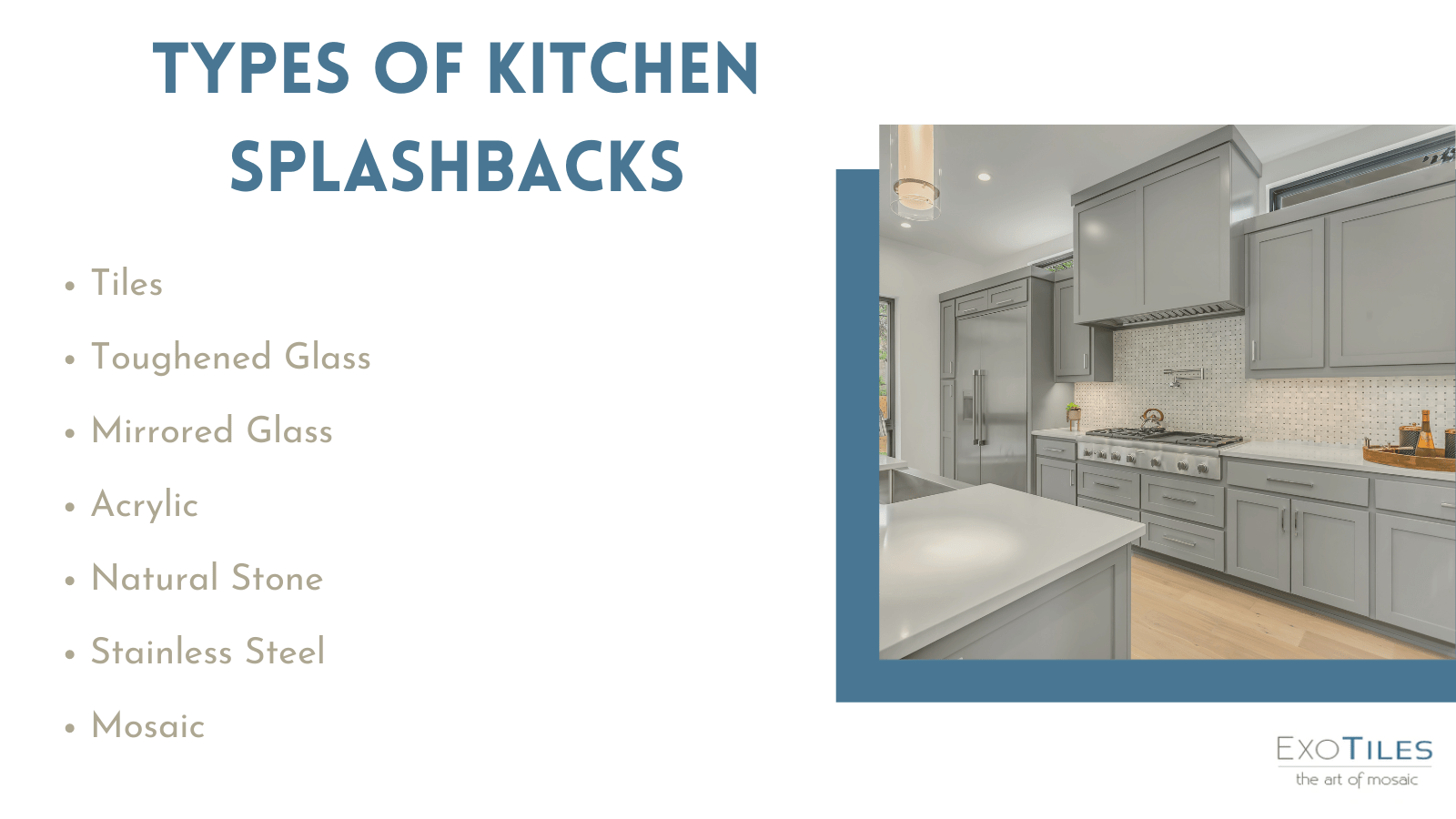 Acrylic:
Acrylic kitchen splashbacks are often used to give the illusion of glass. More cost-effective and easier to install than glass splashbacks, acrylic is a popular option for those who want to achieve the same reflective, shiny look. As acrylic softens at extreme temperatures, acrylic kitchen splashbacks need to be installed a specific distance from gas and ceramic hobs.
Stone:
Stone is a less common splashback material but is still in option if you're installing a new kitchen. More popular in Europe than Australia, you can choose a stone that matches your benchtops to create a seamless, opulent look. As slabs of stone can be more expensive than other splashback materials, it's also possible to purchase stone tiles that can be used for kitchen splashbacks.
Mosaic:
Mosaic tiles are a great solution for kitchen splashback tiles as they provide a beautiful feature or focal point within the kitchen. If you have subdued or neutral colours within your kitchen, mosaic tiles provide an opportunity for you to add a splash of personality. The beauty of mosaic kitchen splashbacks is that various designs can be chosen to suit traditional, contemporary and customised kitchen interiors. Mosaic kitchen splashback designs are available in glass, stone, marble, porcelain and even pebbles.
What Are the Best Tiles for Kitchen Splashbacks?
The best tiles for kitchen splashbacks will depend on your kitchen, your lifestyle and your budget. At ExoTiles, we really believe that tiles make the best kitchen splashbacks as they are naturally porous, easy to keep clean, protect elements of the kitchen, and come in such an extensive range of colours, patterns and textures.
Some of our favourite kitchen splashback tiles are those that are made from porcelain, ceramic and glass. Between trendy designs like subway tiles, fish scale tiles, hexagonal patterns and herringbone shapes, there are so many fantastic kitchen splashback tiles ideas to help you choose the best tiles for your kitchen.
Kitchen Splashback Tiles Ideas
Looking for more kitchen splashback tiles ideas? Head over to our exclusive range of kitchen splashback tiles to see our full range. At ExoTiles, we offer our customers the opportunity to sample their favourite designs – simply choose your splashback designs, and we'll send out a sample of each so that you can be confident in the tiles that you choose for your kitchen.
Our extensive range of mosaic tiles and kitchen splashback tiles means that we have a style to suit every kitchen at ExoTiles. We understand that the kitchen within each home is unique – that's why we offer such a large collection of materials to choose from for kitchen wall tiles. Choose between porcelain, ceramic, glass, acrylic, stone and mosaic splashbacks to create your perfect kitchen.
Hand-made here in Australia, we ship nation-wide, with fast, reliable delivery to all states. Our kitchen tiles are naturally easy to clean, long-lasting and suitable for a wide range of interior design styles. Made from the highest quality materials, our range of kitchen splashback tiles will effectively protect your kitchen walls and enhance the aesthetics of your kitchen. If you're having trouble deciding which kitchen splashback tile to choose, do not hesitate to get in touch with our friendly support team today.